Schwinn Santis
My start into getting into biking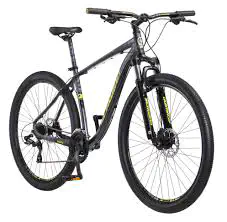 My New Bike
As I try to get more heathy, I have to increase my physical activity. My first attempt at an increase, was walking. I really enjoy walking the dog, but plantar fasciitis has been a hinderance. For anyone who has not suffered with plantar fasciitis, I can best describe it as walking with a nail through my heel. I spoke to my doctor, and biking does not stress my feet. So I am now trying to take up biking.
Although I had an old bike (purchased in the 90s), I could not get it working. I needed a replacement. Because I am just starting out with biking, I can't spend a lot. After much searching, I decided to buy the Schwinn Santis.
It took me about 15 minutes to put the bike together.
At 10 miles in, I love it. I would recommend.