Teaching Tech Calibration Site
3d Printer Calibration Revolutionized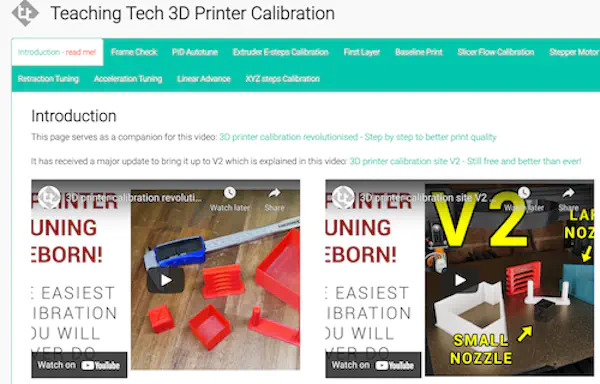 One of my favorite things about working with 3D printers is the ability to setup, configure, and tinker. Part of this is regularly tweaking and updating the firmware. With all the changes I am making, I sometimes need to calibrate and optimize the printers. I used to use multiple sites and guides to accomplish this task. It was all very haphazard. Last year, that all changed when I discovered the Teaching Tech Calibration site.
Developed by Michael Laws as a companion to the Teaching Tech YouTube channel. The site bills itself as "3D Printer Calibration Revolutionized". The calibration site is a distillation of various how-to videos on the TT channel.
The calibration site offers the following tests and calibrations:
Frame Check
PID Autotune
Extruder E-Steps Calibration
First Layer
Baseline Print
Slicer Flow Calibration
Stepper Motor Current Tuning
Temperature Tuning
Retraction Tuning
Acceleration Tuning
Linear Advance Tuning
XYZ steps Calibration
All the tests are fairly easy to configure and usually take me 1-2 hours to complete. For me, it is time well spent. once completed my prints are significantly better. In the case of the "first layer" test, I used the generated GCODE when ever i need to relevel the bed. I have found the method described to be ideal for my printers with both manual and automatic bed leveling.
Next time you need to setup or tune a printer, I would highly recommend that youuse the Teaching Tech Calibration site.